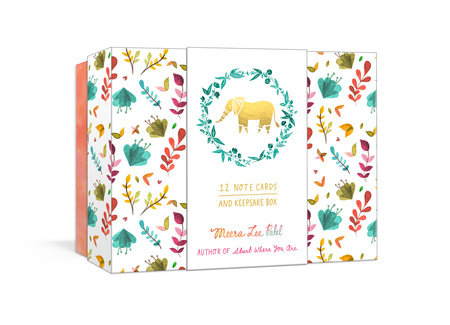 Meera Lee Patel, author of
Start Where You Are,
created a beautiful 12 note card and keepsake box set. The front of each card is decorated with a beautiful watercolor design and quote. The inside and back of the cards are blank, except for the copyright.
The quotes are primarily from famous authors, though some historical figures are also included:
Courage, dear heart. --C.S. Lewis
Simplify, simplify. --Henry David Thoreau
If you want to build a ship, don't drum up people to collect wood, and don't assign them tasks and work, but rather teach them to long for the endless immensity of the sea. --Anotoine de Saint-Exupéry
Real courage is when you know you're licked before you begin, but you begin anyway and see it through, no matter what. --Harper Lee
Be patient and touch. Someday this pain will be useful to you. --Ovid
Be yourself. Everyone else is already taken. --Oscar Wilde
One never knows. --Antoine de Saint-Exupéry
The world only exists in your eyes. You can make it as big or as small as you want. --F. Scott Fitzgerald
At first glance it may appear too hard. Look again. Always look again. --Mary Anne Radmacher
Only in the darkness can you see the stars. --Martin Luther King, Jr.
Start where you are. Use what you have. Do what you can. --Arthur Ashe
Fears are paper tigers. --Ameila Earhart
The quotes cover a variety of uplifting, inspirational topics. Some could be used to send for a specific occassion (overcoming fears, some life challenge), but others seem to be the type of thing that you would send "just because" with any kind of note inside.
Since they're so artistically designed, anyone would be delighted to receive one. My favorite cards are Amelia Earhart's tiger, Antoine de Saint-Exupéry's boat, and Oscar Wilde's card, which features a colorful elephant.
I'm a little disappointed that Antoine de Saint-Exupéry's name is not hyphenated and doesn't have an accent on the attribution of the cards. However, that's quite minor and the only thing that's not absolutely perfect about these cards. It is kind of funny though since he is the only author represented on two cards and he is the one with his name misprinted.

I will actually keep the box the cards came in, too. It's decorated with colorful leaves and says "Every answer is inside you."
All in all, I love these cards and can't wait to send them out to my friends and family.
I received a copy of this note card set from the publisher, but was not required to post a positive review.